The new KIIROO Onyx+ Realm Edition
The new KIIROO Onyx+ Realm Edition in white is ready to bring you in touch with the internet. The Onyx+ Realm is a light-weight male masturbator that is quiet, discreet, and perfect to travel with.

This special edition of the third-generation Onyx has a new and completely different rotating motor that goes in a continuous up-down motion simulating intercourse. The Onyx+ Realm itself can reach an impressive 140 strokes per minute while still maintaining a more quiet motor than its predecessors, making the sensory experience of using Onyx+ Realm Edition even more exciting. Connect your KIIROO Onyx+ Realm with any KIIROO device. KIIROO Pearl (1 or 2), KIIROO Onyx (1, 2 or +), OhMiBod Fuse, OhMiBod Esca (1 or 2) or any FeelTechnology-enabled compatible device. You can truly feel your partner's touch, in real-time, from anywhere in the world. If you prefer solo sessions, KIIROO Onyx+ Realm can be paired to your favorite interactive content; erotic video, Virtual Reality, and webcam partner sites. All content on FeelMe and other interactive partner sites are compatible.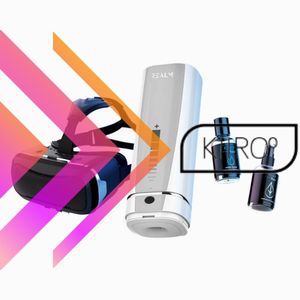 KIIROO ONYX+ Realm Edition